About Us
A Brief history of Asia Bike Tours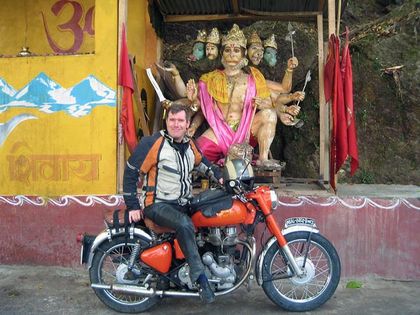 It was back in 1997 and after years in "Big Business", that Heinrich Wegenstein, decided that it was time to follow his true passion. He combined his love for biking and his thirst for exploring the world, so the journey of Asia-Bike-Tours began.
What initially started off with a couple of guided motorcycle tours in Rajasthan quickly grew to half a dozen motorcycle tours in various parts of the Indian subcontinent, accommodating the enthusiasm echoed by clients and their friends. Slowly other guides joined the party since Heinrich could not guide everything himself.
As the word spread and our tours continued to be a success, our spirits were amplified to venture beyond South Asia and on to Central and South-East Asia. Fast-forward to the present—25 years after Asia Bike Tours was founded—we offer motorcycle tours in Bhutan, Burma, China, India, Kyrgyzstan, Nepal, Thailand, Tibet, and Vietnam.
80% of our clients, many of whom have become friends, join us more than once on Asia Bike Tours. Thanks to them, we get an opportunity to grow and thrive.
The Team that's there for you - Asia Bike Tours 2.0
Heinrich Wegenstein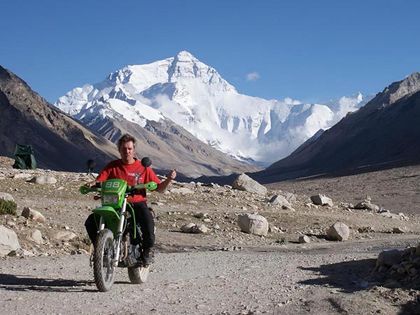 Founding father of ABT, he has become a true connoisseur of everything you can do with bikes in Asia. His tours can pretty much be summarized with: As organized as necessary—as easygoing as possible.
Driven by the enthusiasm echoed by his clients and friends, he continued to expand across Asia. As the number of tours grew and guiding all of them was not feasible, he started recruiting guides to provide you with fabulous experiences.
Yet after twenty-five years on the most beautiful motorcycle routes, Maestro Heinrich decided to take the back seat. He handed operations and administration to Benedikt and Shankar, long term guides and friends of ABT.
Heinrich wants to retire, enjoy the idyllic rural life, and watch the leaves fall and the squirrels chase each other around trees. We don't quite buy that, because he knows best: once you've been on a motorcycle trip, you just cannot do without it. Because we know that as long as the profession remains a passion, Heinrich will continue to guide some tours.
Shankar Nath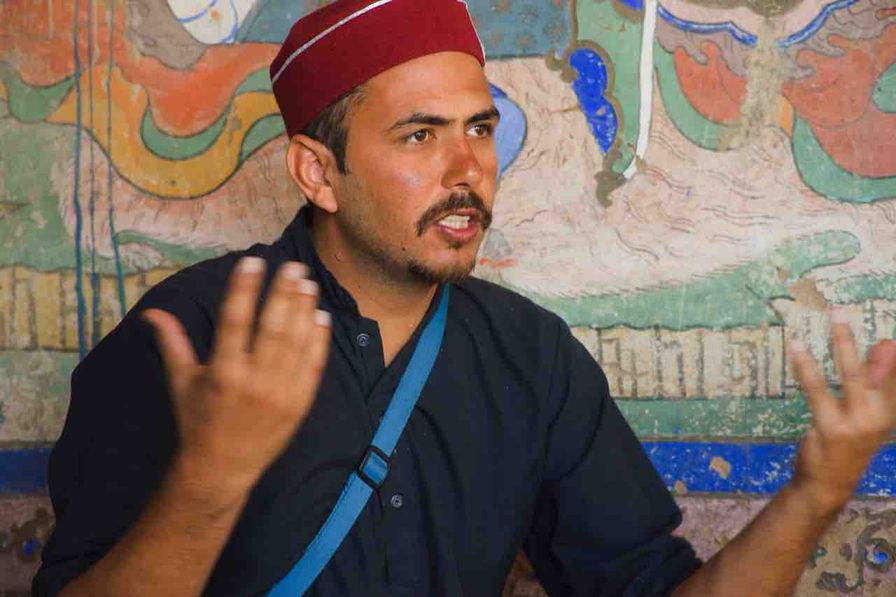 As the son of an Austrian mother and an Indian father, Shankar was raised in India and quickly came to love the diversity of the subcontinent. He completed his studies at the University of Vienna, majoring in South Asian Studies. Shankar is fluent in Hindi, Urdu, English, and German, and as an amateur linguist, he also speaks some Indian dialects. He is a passionate traveler and fascinated by different cultures. From the age of 17, he started leading study trips as an independent tour guide for universities and travel companies! A chance encounter with Heinrich started his association with ABT.
Backpacking from India to Europe opened his mind to the vast cultural wealth the Asian continent has to offer. India and Iran are his great favorites, food and motorcycling his passion. Shankar is always happy to illuminate the finer points of history and culture to his interested listeners. Food, Language, and History are topics you shouldn't get him started with-unless you have time.
Benedikt Urban
"Friendly, charming, understated" is how guests describe him, and that does hit the mark. Of European parents, Benedikt Urban was born and raised in Dharamsala, India. Growing up in the local Indian community while attending a Tibetan school in a town also known as the exile home of the Dalai Lama, he's fluent in English, Tibetan, Hindi, and German. He studied Political Science and Economics in the United States.
For many years he worked at the confluence between academic exchange programs for universities: teaching and organizing cultural/educational travel for people of all ages.
Having acquired diverse insights into the historical and cultural traditions of communities across South Asia and Tibet, he has unique perspectives when it comes to comparing the different worlds of east and West.
Tenzin Thinley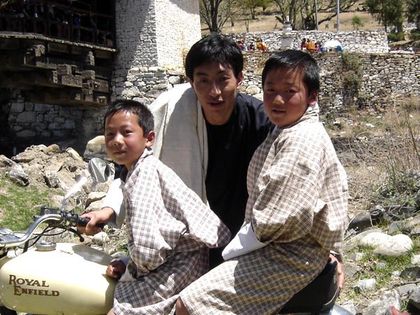 Bhutanese national here with his two sons. Tenzin crossed our way when we had to cancel a Tibet tour when the borders where closed because of SARS. This resulted in our first Bhutan tour and a long friendship.
Due to a scholarship for tourism in Germany and Austria Tenzin speaks German as well as English, Bhutanese, Hindi and Tibetan. He runs his own travel agency in Bhutan and he guides tours in Bhutan, Sikkim and in north India, Ladakh for us for many years now.
He also lived for a few years as a monk in an monastery: another reason why he is a wealth of knowledge about Buddhism and Bhutan.
A bit about our travel philosophy
Traveling and discovering hidden places has not only been our profession but our passion for over 25 years. Travel has become a major industry based on mere consumption - consuming culture(s), their food(s), their history, and their sovereignty—creating a disturbing plethora of fake authenticity, folklore culture limited to five-star restaurants, bogus smiles, and indentured hospitality.
But at the same time, there is a rising need for bespoke traveling, a search for authenticity, striving for a realistic non-romantic, and yet affectionate exposure to distant cultures, their ways of living, and their "Weltanschauung" sans fake populism.
It is our belief that only if the traveler allows himself to be consumed as much as he/she consumes, the journeys into unknown waters can be seen as a fertile exploration and it leaves an impact that follows you home. This is what we strive to accomplish, and can be demonstrated by 80% of our clients booking with us more than once.
We don't claim to be the best, and we don't claim to be the only one, but we do claim to give our absolute 100% to make your journey a cherishable memory.
Values we uphold
Fair Play is a cornerstone of our business
We live in a rich world with money badly divided. ABT as a philosophy believes in fair play. All our partners and associates get paid fair prices. You will never see our guides, mechanics, and drivers in lesser accommodation than we take for ourselves. It's the very core of our company culture, the essence of who we are, and the driving force behind everything we do.
Ecological Footprint, an avenue we continuously challenge ourselves to do better
We constantly try to inform ourselves of the ecological footprint we create. And the impact it has on the vulnerable communities we visit. We don't claim to have all the solutions for it. But it's our commitment to perpetually challenge ourselves to think about the ecological footprint we create and use whatever means available to reduce Asia Bike Tours' ecological footprint. The same goes for our partners up and down the supply chain, whom we hand-pick because they uphold similar values. With Shankar's background in social ecology and Benedikt's exposure to sustainable entrepreneurship, we ensure that our approach goes beyond greenwashing and is empirically validated. We do believe that biking and ecological sensitivity are not mutually exclusive.